Discover more from DeFi Arts Intelligencer
Your bulletin for on-chain art, collectibles, and games.
Over 2,000 subscribers
DeFi Arts Intelligencer - Feb. 15th, 2020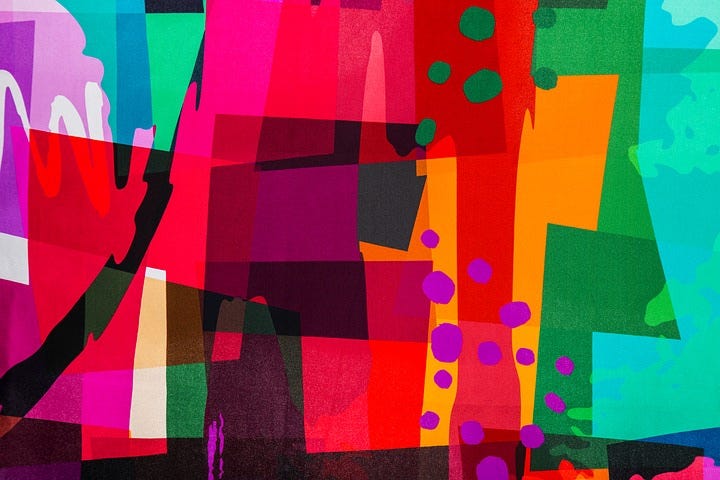 Welcome to the 5th issue of the DeFi Arts Intelligencer, your weekly source for key happenings around blockchain art, collectibles, and games. Subscribe here.
🔶🔷🔶🔷🔶🔷🔶🔷🔶🔷🔶🔷🔶🔷🔶🔷🔶🔷🔶🔷🔶🔷🔶🔷🔶🔷🔶
---
For this dispatch:
🎨
 Digital Art & Collectibles
Art duo Hackatao's new series, "The Whale," sold out in hours for right under 17 ETH.

SuperRare artist Pak sold "Rubik's Misery" to WhaleShark for 25.75 ETH 🐳

Are you an artist that wants to launch a gallery in Cryptovoxels? The aforementioned art collector and patron WhaleShark has offered rent-free CV parcels for yearlong leases to those interested.

Speaking of Cryptovoxels, its world is having its first charity auction on February 29th.

Osinachi has a beautiful new piece, "The Thinker Gets Flowers," out.

Piano Power, the 2nd album from the virtual Algorithmic Jazz Alliance group, has been released and with it a handful of commemorative NFTs to celebrate.

OpenSea hosted an epic ETHDenver 2020 Art Gallery Auction.

Cryptoart market rising: to date SuperRare pieces have generated 2,846 ETH in total volume (for a rise of 23% on the week), Known Origin's pieces 83 ETH (up 360% on the week), and MakersPlace's pieces 181 ETH (up 8 percent on the week). Per OpenSea, these platforms' current average sales prices are 0.73 ETH, 0.32 ETH, and 0.21 ETH respectively.

According to NFT tracker site NonFungible, the projects with the most trade volume this week were Decentraland ($635k), The Sandbox ($181k), Gods Unchained ($76k), Cryptovoxels ($44k), and SuperRare ($37k).

Mintbase now has 300 markets.

The NFT space a leading indicator of crypto trends? Dapper Labs's Brian Flynn thinks so.

Decentraland has a new naming system that's integrated with the Ethereum Name Service (ENS).

The Avastar project is off to a hot start.

Madrid-based Belgian artist Skeenee, creator of the $SKULL personal token, put out an awesome new series 💀
🕹️
 Blockchain Games
Meet MetaClan: the first eSports DAO.

Gamers competing for rare digital items that gain, or are good for, Dai prizes? It's on the horizon!
The team behind the no-loss lotto game PoolTogether clarified how winners are selected.

Morrigan, Goddess of Death, is on sale for 10 ETH. It's the first mystic bird in Axie Infinity. Could be a good snag for the upcoming Leeky Cup 👀
Using the DeFiZap project's newest tool, users can easily become Uniswap liquidity providers for Axie Infinity's Small Love Potions (SLP).
♦️
♦️
 DeFi News
The Ethereum browser wallet Metamask crossed 1 million users.

tBTC, a trustless ERC20 version of bitcoin, is live on Ethereum's Ropsten testnet.

A governance-minimized alternative to the Dai, Meta, has been proposed.

The opyn project now offers insurance for deposits on Compound.

Want to create Ethereum-powered React apps? Sablier's Paul Berg has you covered.

Decentralized exchange Uniswap is shooting for the stars …

MetaCartel Ventures, a community investment DAO, launched with support for an initial set of tokens, including MetaGame's $SEED, Axie Infinity's Small Love Potions (SLP), and personal tokens like $MAGIC and $PEW.

The new Authereum platform is bringing DeFi toward mainstream audiences.
📰Fresh Reads
🖌️Extra, Extra
Thanks for reading, and stay creative on- and off-chain!
Keep an 👁️ out for the 6th issue of the DeFi Arts Intelligencer this time next week, too. Cheers ✌️
🔶🔷🔶🔷🔶🔷🔶🔷🔶🔷🔶🔷🔶🔷🔶🔷🔶🔷🔶🔷🔶🔷🔶🔷🔶🔷🔶
---
About DeFi Arts Intelligencer
The DeFi Arts Intelligencer is curated by me, William M. Peaster, a professional writer and editor who's been tracking the Ethereum and Dai beats in recent years.
I'm passionate about art and a DeFi optimist, so putting together this newsletter is both fun and informative for me. I hope others may find the content helpful, too. But be mindful, the information herein should not be construed as investment advice. I'm not a financial adviser, and these are my opinions. Always take care to seriously consider the various layers of risk you face in participating in the still-maturing cryptoeconomy.
If you have a DeFi tip or lead, questions or comments, or would be interested in commissioning me for a writing gig, you can ping me at wmpeaster@gmail.com or on Telegram at @wmpeaster.
This particular newsletter is a labor of love, but if you enjoy the work and want to support it, feel free to subscribe, have a like-minded friend subscribe as well, or buy some of my crypto art on OpenSea! Thanks kindly!
---
🔶🔷🔶🔷🔶🔷🔶🔷🔶🔷🔶🔷🔶🔷🔶🔷🔶🔷🔶🔷🔶🔷🔶🔷🔶🔷🔶
🖌️Things I tokenized on OpenSea this week🖌️
Two ponds split like eyes
A crane walks between the gaze
Rain ripples the stare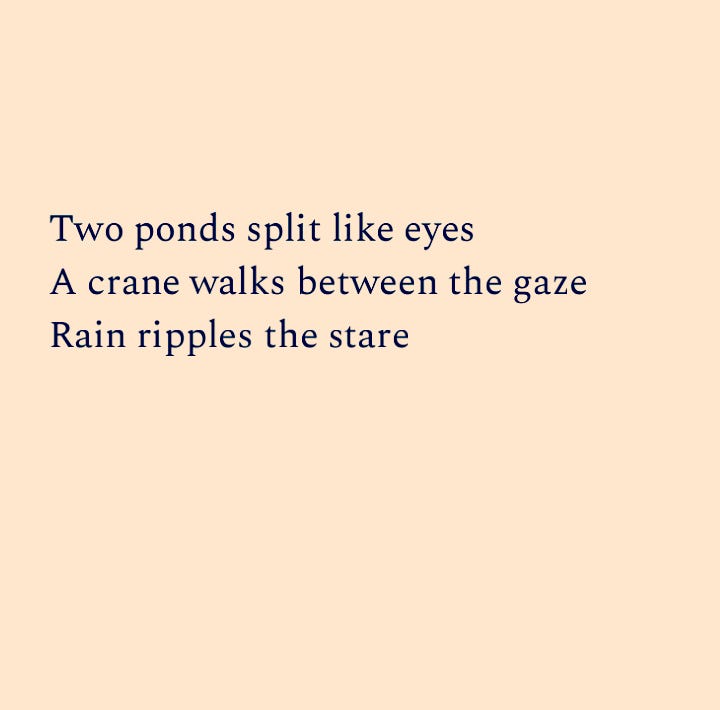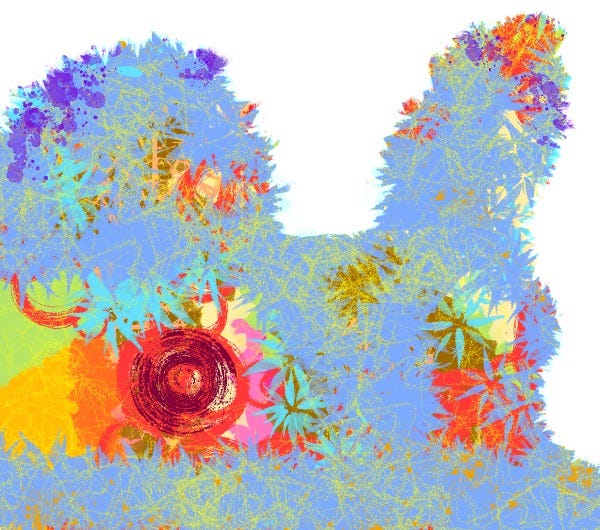 🔶🔷🔶🔷🔶🔷🔶🔷🔶🔷🔶🔷🔶🔷🔶🔷🔶🔷🔶🔷🔶🔷🔶🔷🔶🔷🔶